Haircuts and styling services
We offer a fantastic range of haircuts and styling at prices to suit everyone which is why our clients all enjoy the Taylor's experience. A good consultation is at the heart of any fantastic hair cut and our stylist's have been put through their paces so only the best hairdressers get to work at our salon meaning you are in safe hands.
From a small trim to a complete re-style, there's no job too big or too small. We welcome all age groups both male and female. Whether your hair is straight, curly, long or short we will create something special for you. Rayleigh 01268745744, Southend on sea 01702342220
Cutting & Styling
Level 1
Level 2
Level 3
Cutting Specialist
DIRECTOR

Chris Taylor

Cut and blow dry
£36.00
£40.00
£44.00
£48.00
£62.00
Re-style
£40.00
£44.00
£48.00
£52.00
£68.00
Wet cut
£21.00
£24.00
£29.00
£34.00
£40.00
Dry cut
£21.00
£24.00
£29.00
£34.00
£37.00
Blow dry
£21.00
£24.00
£28.00
£32.00
£34.00
Extension blow dry
£6.00
£30.00
£34.00
£38.00
£38.00
Hair up from
£30.00
£35.00
£40.00
£45.00
–
Curling no wash
£14.00
£16.00
£16.00
£18.00
£18.00
Straightening
£14.00
£16.00
£16.00
£18.00
£18.00
In Salon Treatments. Masque £7, Serie Expert power mix £10, Kerastase premium treatment £15.
Men's
Level 1
Level 2
Level 3
Cutting Specialist
DIRECTOR

Chris Taylor

Cut
£22.00
£22.00
£24.00
£26.00
£29.00
Temple area tint
£22.00
£22.00
£24.00
£24.00
£24.00
Creative colour
£25.00
£30.00
£35.00
£40.00
£45.00
Treatment
£7.00
£7.00
£7.00
£7.00
£7.00
Scattered Highlights
£125.00
£27.00
£30.00
£30.00
£30.00
| Childrens | Price Dry/Wet cut |
| --- | --- |
| 0-5 years | £10.00 |
| 6-10 years | £15.00 |
| 11-14 years | £20.00 |
| 15 years + | Adult Prices |
Our range of hair colour services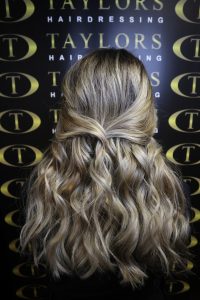 Our goal is to give you the best possible results, we hope you have enjoyed looking through our before and after pictures to see the amazing work we can achieve. Sometimes with colour changes, it may take more than one visit to the salon to get you to your desired look. An image you may have seen online may have not been created by one trip to the salon. Our colour specialists work with L'oreal colours (Majirel). We have a huge variety of colours to choose from which provide fantastic shine and hold. We cover all of your colour needs from a root touch up, highlights or full colour correction. It is amazing what the right colour can do for your hair. Consultations are free with our colour specialists to discuss ideas and give you inspiration. Please come into the salon for a skin test atleast 24 hours before your appointment. Rayleigh 01268745744, Southend on sea 01702342220
"Majirel hair colouring system offers a rich, permanent hair dye which provides perfect coverage of grey hair. With the expertise of your colour specialist and an in-depth colour consultation you can achieve your perfect shade. Majirel has over 100 shades that can be tailored to create exactly the colour you are looking for" – L'oreal Majirel
HIGHLIGHTS
Price

Level 1/Level 2 /Colour Specialist

Full head
£76 / £80 / £85
Half head
£56 / £60 / £65
Parting
£41 / £44 / £48
Tint& half head of lights
£78 / £82 / £88
TINTS
Price

Level 1/Level 2 /Colour Specialist

Full head tint
£45 / £48 / £51
Roots
£35 /£38 /£41
Semi/quasi
£35.00
Balayage
£78.00 – £118
Toner
£10.00
| COLOUR CORRECTION | Price |
| --- | --- |
| Black to Brown* | from £90.00 |
| Brown to Blonde* | from £90.00 |
| Pre lifting | £20.00 |
| Additional colours | £5.00 |
*Strand test required for all colour corrections.
*skin test required for all hair colouring 24 hours before appointment.
Our range of hair extension services
Our most popular extensions. We can add length, thickness or both, We create a perfect colour match using fine strands of multiple colours. We have seen fantastic transformations from this brand of extension, micro ring and glue in applications. Consultations are free with one of our extension experts which will give you an exact cost for this service.
Founded in 1995, Racoon International is the number-one supplier of high-quality, glamorous human hair extensions to salons. All of Racoon's products are scientifically proven to keep natural hair safe and healthy and are endorsed by an independent trichologist.
We all know how frustrating it can be when trying to get that amazing and natural look with your hair and the many options that are available when visiting a salon so let us make life a bit simpler and contact us today for a FREE consultation with one of our hair extension experts.
Balmain hair extensions have a wide range of products including micro rings, wefts, pre-bonded and even quick tape ready for a night out on the town.
Our range of hair straightening services
We offer two types of Keratin blow dry, our original is Global Keratin designed to de-frizz and tame unmanageable hair. Our latest Keratin product straightens out your hair removing any kinks you may have while de-frizzing.
A Brazilian blow dry puts straightening serums and special shampoos out of business because after one session your hair is left suitably kink-free and touch ably soft giving you a blow dry finish for up to four months every time you wash your tresses.
| STRAIGHTENING | Price |
| --- | --- |
| Global Keratin from | £65.00 |
| Kerastraight from | £95.00 |
Our range of wedding hair services
We are a recommended salon for the beautiful wedding venue Apton hall,  A number of our hairdresser's specialise in hair up, wedding hair and occasion hair in both our Rayleigh and Southend Salons.
Our plan for your special day – lets find out about you, coming in for a consultion is our starting point, let us understand your needs and expectations for your big day.
Is your hair in great condition? Is the colour what you want it to be on your big day ? Its not just about doing you a fantastic up do on the day. We will look at the time frame we have to get your hair looking fantastic, making a plan for it to be perfect on your wedding day. This will all be worth while when you get those beautiful wedding pictures back.
In the salon we have our own wedding book for you to look through of our previous weddings for ideas and inspiration.
There are an amazing variety of styles for your wedding day hair. We always recommend you having a trial a few months before the wedding so we can experiment with different ideas and looks on your hair. Understanding this is your special day we have now made it possible to bring our fantastic team to you whether you are starting your day at home or at a venue.
On all packages we want to make sure you groom is looking fantastic so we offer a free mens hair cut which can be used before the big day.
We cater for all occasions including prom hair, festival hair and occasion hair get in touch to speak with one of our hair up specialists. Rayleigh 01268745744, Southend on sea 01702342220.
| In salon services | Price |
| --- | --- |
| Bride on the day | £90.00 |
| Bride trial | £50.00 |
| Brides maid on day | £45.00 |
| Brides maid trial | £35.00 |
| Hair at wedding venue or out the salon | Price |
| --- | --- |
| Bride | £200.00 |
| Bride, Brides maid x 1 | £250.00 |
| Bride, Brides maid x 2 | £350.00 |
| Bride, Brides maid x 3 | £400.00 |
Hair at the wedding venue prices are here to give you a very good idea of price and is based on a location within a 1 mile radios of the salon, please email us so we can send you our wedding form to get an exact quote for you.
Our range of beauty treatments
World of Beauty is owned by Emma Belford and is positioned above Taylor's hairdressers. Trained at Steiner School of Beauty, Emma caters for all of your beauty needs from massage to waxing and much much more using the finest products.
Emma offers Fake Bake spray tanning, Nouveau semi permanent lash extensions, Jessica manicures, pedicures and GELaration nails to give her clients a first class service every time. For appointments call Emma direct on 0787 039 9274